I am an original finger-style, instrumental acoustic guitarist. My roots are from NYC. I grew up in da' Bronx- go Yankees!!!

I moved to Connecticut in my teens, but have never lost my New York mindset...frequenting the city quite regularly. The ol' New Yawk accent even slips out from time to time--at least so I'm told.

I graduated from Western Connecticut State University in '97, with a B.A. in Communications/Theater and Media Arts Degree- Cum Laude.

After giving the business world a whirl, I left corporate America in 2002; to pursue a career in music at the professional level.

The music I compose is derived from many eclectic tastes. It has evolved into a style I believe is my own; especially my finger-picking technique.

It has been categorized as thought-provoking, adult contemporary. It is all finger-style guitar; that has influences from new age, world, meditative, spiritual, adult contemporary, blues, jazz, funk, R&B, folk, classical, rock, heavy metal, Latin, Spanish, Indian, African, Asian and Middle Eastern, to name a few...

Some compositions are driven by a very percussive element, or as my friend calls it- percoustic--pretty funny, I thought- but right on the money. This link will provide more info on the music itself, if you would like.
I presently perform throughout New York and Connecticut, but have had the pleasure of playing a number of other locations; primarily on the east coast---so far...

Initially, I began performing at coffee houses, restaurants and open mics. I really enjoyed doing the open mic circuit and would travel to NYC three times a week; just to have a chance to play---it was quite an experience.

I still love to attend open mics from time to time. It is such a great opportunity to perform, hear other musicians, meet great people, network and just take in the whole music vibe. I also enjoyed hosting a few over the years.

I have also had the fortunes of adding and performing at some larger venues, special events and private functions.
My gig calendar will provide details as to where I will be appearing next.

As far as recordings go, my debut CD, Look What's Around, was released in September '02. Please read the News Times review. It's available at shows and by clicking on marchuberman.com. I learned so much throughout the recording/production process, but prefer playing in front of a live audience.

This recording/production go around will be very different--I'm very psyched.
A DVD, live CD and new studio, full-length CD titled, Wonders of the Day, featuring 17 songs- are in the works for 2009. Way too much time has past--- This year will yield a lot of new things from Hubie Central, for sure.

In addition to these projects, Kripalu certified yoga instructor, Aline Marie and yours truly have created and launched
Acoustic Asanas in 2006.

Acoustic Asanas is a unique experience– The two hour workshop offers a Vinyasa Style moving meditation with guitar accompaniment. I play each pose in sound, in tune and in harmony with every breath and movement. It is a very naturally-organic, healing experience.

This workshop was well received throughout yoga studios in Connecticut and New York. In 2008, Aline had some other opportunities and endeavors that she wanted to pursue as well as bring her wonderful teaching style to the west coast. So what would happen to Acoustic Asanas?

Well to keep the spirit and energy alive, Aline and I began talking with her mentor, Gloria Owens; also a Kripalu certified instructor and the co-owner of YogaSpace in Brookfield, CT. This natural progression and perfect fit was very exciting to all parties involved.

Gloria and I have started offering the workshop at YogaSpace and plan to bring this great experience to a studio near you.

Aline Marie is still very much a part of Acoustic Asanas. As this project continues to evolve, know that this is a work in progress that truly brings, mind, body and spirit together in a most healing way.

If you are interested in bringing Acoustic Asanas to your studio, retreat center, spa or private function, please call 203.770.0132 or email info@acousticasanas.com.
With all this being said, I am so fortunate to being doing what I do. From a biography standpoint--- I presently book 100+ performances annually.

My most notable appearances have been supporting spots for the Tempatations, John Waite, the wild, swing band- Big Bad Voodoo Daddy, and world-renowned saxophone legends, the "Big Man" Clarence Clemens and
David Sanborn.

I also had the honor of entertaining nine-time Grammy award winning Producer and music mogul- Phil Ramone and the late-famed Composer & Conductor- Skitch Henderson.
This type of exposure has really helped me gain the credentials and confidence necessary to bring thing this endeavor to the next level.
I plan to continue performances and working with Acoustic Asanas, but still have many other ambitions. My compositions focus on establishing many different moods or vibes. I believe they lend themselves most appropriately in meditational environments, special events, therapeutic groups, retreat/spa facilities, day-care programs, fine-dining establishments and ceremonies.

Eventually, I want to work with many other kinds of media. In particular- radio, television, cable programs, commercials and feature films. It has also been mentioned that my music is especially calming while driving. It may even help alleviate that road rage, hahaha.
Humbly, I am able to provide you with other projects, activities and other noteworthy mentions to date:
-Guitar instruction

-Live-broadcasts in the studios of Radio-Free, Binghamton's WHRW 90.5 FM, WXCI 91.7 FM and WSTC/WNLK-1400AM & 1350AM

-Music meditation & activities group for developmentally disabled adults

-Special Family Night held monthly at a venue in Ridgefield, CT.
-Numerous openings and showcases involving press, radio and television

-Comcast Cable show "Time-Out with Kevin Gallagher- featured musician

-Open Mic Finalist- Towne Crier Cafe

-SoNo Caffeine- featured musician

-and lastly, but, hopefully not least— multiple reviews, features, articles and photos in The News-Times, Fairfield County Weekly and Ridgefield Press.
If you are interested in receiving more information on bookings, collaborations or would just like to drop me a line, please email me at marc@marchuberman.com or call 203.770.0132—this website can also provide any other information related to the music and projects in the works.

Please don't forget to click on the calendar; for my upcoming performance schedule.

I thank you for your continued support...

Marc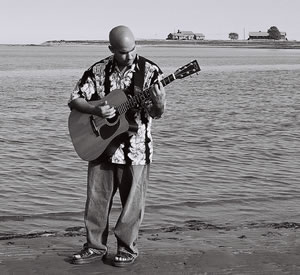 photo courtesy of Shawn Avery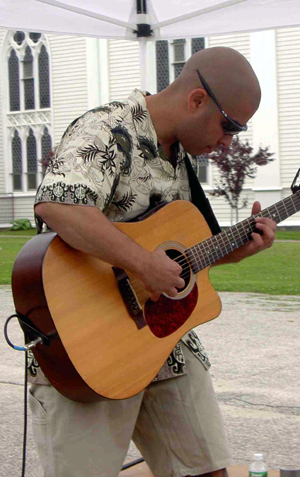 photo courtesy of John Stuart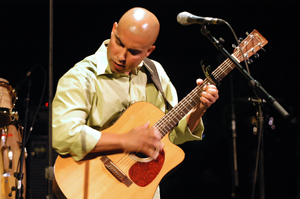 photo courtesy of Peggy Stewart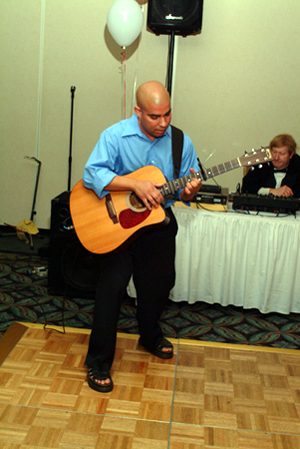 Not sure who took this one?
Congratulations again to Kevin and Mara-big wedding day!