performance/event news

~ Please note: A new version of marchuberman.com will be launched shortly. It will have a number of revisions that I think you will truly enjoy. Live performance videos, a photo gallery, a new calendar, share buttons, the works...

As far as future gigs throughout 2010 go, please click on the following links>>>

http://www.facebook.com/people/Marc-Huberman/1092218449,
"or"
http://www.myspace.com/marc.huberman,
"or"
http://twitter.com/marchuberman.

Since that is where I've been posting my performance schedule, until the new site is up.

I will send out an email, as soon as the new website is launched and live for your viewing and auditory pleasure:)

Thank you so, so, so much for your continued support...


~ I am pleased to announce that Brendan's at the Elms now offers live music. This fine establishment located right in the heart of Ridgefield, CT provides outstanding food, service and atmosphere. Please visit their website at the link above, to learn more about this fine spot.

I will be scheduling additional gigs in the near future. Please keep posted...


~ Thank you to everyone that came down to The Space on Tuesday, December 15th. I was honored to have been the featured performer at their Tuesday night acoustic open mic. The Rodgers brothers (Mighty Purple), family, friends and supporters of local music have created one of Connectictut's "true" music spots!

This is a great open mic and real "listening room" - It was a great night...


~ On October 8th, I was honored to debut at my friends new restaurant. The wonderful couple, Steve and Katrina Prokop and their close friend Todd Rose; have embarked on a truly unique endeavor.

Their vision is a feast for all the senses. And better yet, their ideas behind interior design, layout, visual aesthetics, menu, wine, champagne, spirit selections and of course bringing on a wonderful staff; all encompass a progresssively modern approach.

It is a refreshing, comfortable and welcoming establishment called, Cuvee, A Food, Wine and Champagne Room.

It's sort of New York, meets San Francisco, meets the Guggenheim and MOMA; all in one! As I mentioned previously, they offer awesome tapas, wine, champagne and spirit selections.

Please visit the website for more information on what this fantastic place is all about.

Reservations are suggested, but not necessary-

Thank you to everyone that has been coming down and a big, big thanks to Katrina, Steve and Todd for asking me to play.

Though it was a short lived experience, it was still a blast! At this time, they will be offering live music on Thursday's by someone doing more "cover-song" type material.

Just tring to mix things up- Not sure if I'll be back on their roster, but again, I do want to thank everyone that had been coming down and thank the Owners for the fun opportunity to play my original music at their establishment.


~ I was honored to have had the opportunity to work with two time Emmy Award winner Wayne Keeley. He wrote a play titled, Waiting on the Sun. Stephanie Lyons of Danbury is the Producer and Assistant Director. Music is by the Doug Wahlberg Band.

The show is a funny, heart-warming and very real window into the life of a young college student afflicted with Becker Muscular Dystrophy.

Special thanks to everyone that attended performances of Waiting on the Sun at the Danbury Music Center. If you were not able to come down, please note that the next show will be at the Ridgefield Playhouse. The date is tba...

For questions, please call The Wyatt Foundation at 203.312.9804. You may also visit the website at http://www.thewyattfoundation.org
/waitingonthesun/index.html or send an email to the wyattfoundation@gmail.com.

How did I get involved with this project, you may ask? Well, my friend Doug Wahlberg mentioned the project and foundation to me last year. As it came together, there was the need for additional entertainment, so, I contacted Wayne and the rest is history... It was very nice to be a part of such an important cause.

It has been some time since I worked in theater. I was a technical geek in college, working as a sound designer and engineer on many productions. I continued to do some freelance work after college, but gravitated to musical performance over the years. It has always been in the back of my noodle to work in this area again.

I was happy to be involved with the sound design and marketing. It's a slight departure from playing guitar, but it was surely exciting and news worthy!

Wayne, his wife Joanne and Stephanie Lyons created the Wyatt Foundation of CT, a 501(c)(3) non-profit charity to benefit boys diagnosed with Duchenne and Becker Muscular Dystrophies. The foundation's mission is to also extend support to those with other terminal or chronic illnesses.

Wayne and Joanne's son Wyatt was unfortunately diagnosed with Duchenne MD, prompting the creation of the foundation.

With the help of many volunteers, the organization has held a few wonderful benefits over the past couple of years- please see below for details on the Chef's Table Event at Two Steps Downtown Grille and at the Sculpture Barn in New Fairfield.


~ On Saturday night, March 28th, the Wyatt Foundation hosted an important benefit at Two Steps Downtown Grille in Danbury, CT.

The initial launch of this truly wonderful foundation was created by the Keeley family, in support of helping their son, Wyatt Keeley of New Fairfield, CT. He was shockingly diagnosed with Duchenne Muscular Dystrophy. Duchenne is the most lethal form of MD. Currently, there is no cure.

Please click here to read the general background of how the history, foundation and benefits have all came together.

Tom Devine, the Owner of Two Steps, has graciously offered his time, food and fine establishment to be the host site for the special Chef's Table event on 3/28, from 7:00pm-10:00pm.

Yours truly performed throughout the evening. Stephanie Lyon Shultz and many more people have also offered up their expertise and support to help make this night a success.

Please click here for more information as well...


~ T
he Georgetown Street Fair was held on Sunday, June 14th. The event offered great food, music, arts, crafts and more. Please click on the link for more info... It was an awesome afternoon for the whole family!!!

Thank you to everyone that came down. Special thanks to Verryn Jennings for accompanying me on saxophone and djembe and especially Adam Lubarski for inviting me back this year.


~ Acoustic Asanas is back! I am very happy to announce that I am working with the co-owner, Gloria Owens of YogaSpace in Brookfield, CT.

Aline Marie and I created "AA" two years ago. We put it on hold temporarily, as she moved to California to pursue other endeavors. We have been holding workshops when she's been home to CT for a visit.

Gloria was an integral part of helping "AA" come to fruition. She was one of Aline's mentors. While out in California, Aline and I continued to talk about the next step for "AA". We always knew that other teachers and musicians may work, but they just had to be the right ones.

It just seemed natural to work with Gloria, so here we are. We have Aline's blessing and believe that it's just another wonderful extension of the energy Acoustic Asanas offers atttendees.

Gloria and I offered an impromptu classes during one of her regularly scheduled classes a few weeks ago. It went over quite well- so, we're happy to announce that we're moving forward>>>

Thank you to everyone that attended our workshop on Friday, October 9th.

We we will be scheduling more workshops throughout the winter months. Those dates are to be announed...

Please click here for more information on this unique experience!


~ Sunday, May 3rd, I was fortunate to have debuted at The Candlewood Grille. Please visit their website for more info at www.candlewoodgrille.com.

A big thank you to everyone that came down!

I performed throughout brunch from 12p-3p. The response was great, as was the food! The owner, management and waitstaff seemed quite happy as well.

With that being said, I plan on returning in the near future.
Special thanks to Nancy Giordano of the wonderful band, The Eclectic Groove; for hooking me up with this gig!
Please visit the bands website, for more info on upcoming gigs, music samples, etc...

I will keep you posted on my next scheduled performance.


Click here to continue reading more news.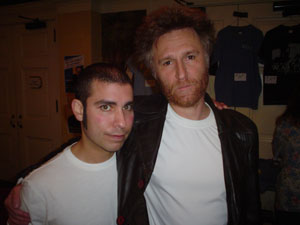 John Waite and yours truly after the show--he requested that we "not" smile? Sort of a play on his song-
"When I See You Smile"-hahaha, not!
Photo courtesy of John's crew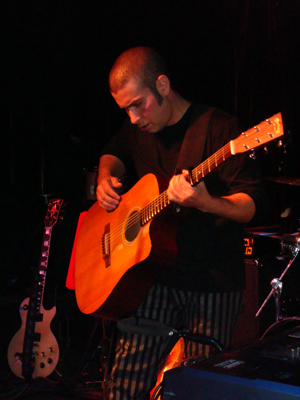 Cutting Room, NYC
Photo courtesy of Christine Berntsen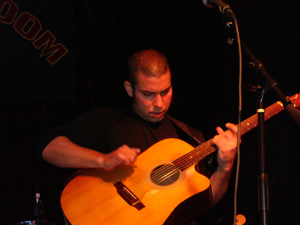 Cutting Room, NYC
Photo courtesy of Christine Berntsen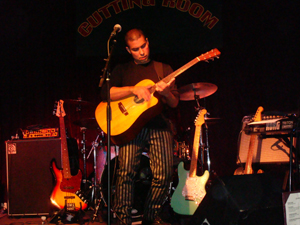 Cutting Room, NYC
Photo courtesy of Christine Berntsen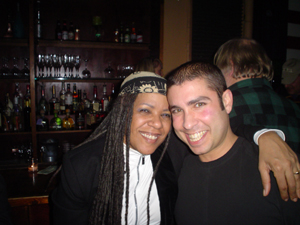 Cutting Room, NYC
Felicia Collins and Hubie Doobie
Photo courtesy of Christine Berntsen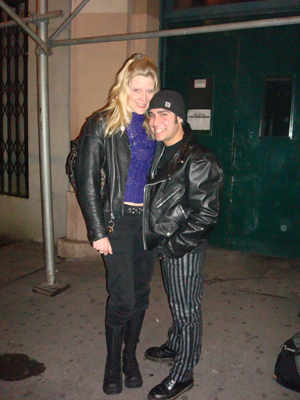 Cutting Room, NYC
My better half Christine & I- after the gig- it's party time...
Photo courtesy of Cindy Wahlberg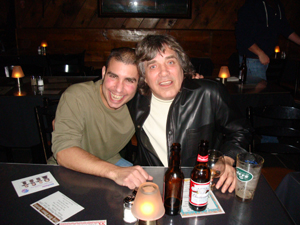 Thursday night open mic/jam at The Georgetown Saloon
Hangin' with Jose Feliciano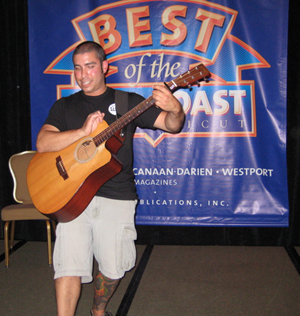 Hyatt Regency, Greenwich, CT
Performing & Celebrating for the Georgetown Saloon
winning two huge awards...
Photo courtesy of Christine Berntsen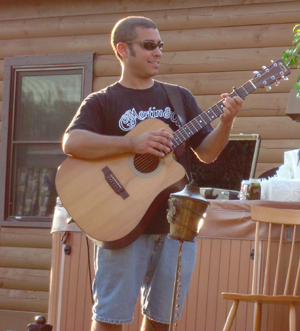 Jammin' at Brian and Jill Ready's wedding reception
Tupper Lake, NY
Photo courtesy of Jill Ready